2. The World of Tangramia |
King of Kings 3 -- The World of Tangramia
Tangramia
In the world of King of Kings 3 there are many places to go and sights to see, as well as lots of interesting characters to meet and scary monsters to fight. Alliances are formed and broken, wars are won and lost, and no one knows for sure who will be the King of Kings tomorrow.
The seven realms
After centuries of continuous war, the once mighty world of Tangramia was torn into seven realms: Germania, Lutetia, Britannia, Mediterrania, Anatolia, Polonia and the New World. Each of the realms is protected by a patron god and its inhabitants fight amongst themselves for the limited resources available.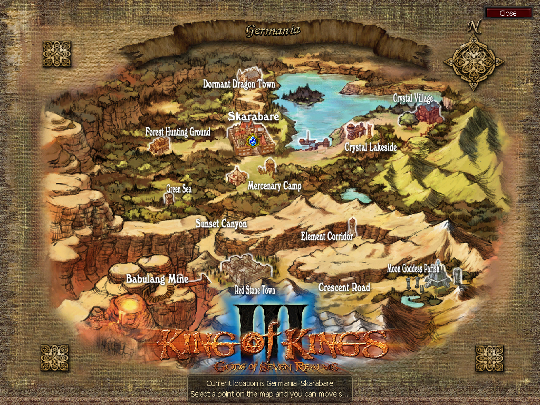 Towns
In each realm there are two large towns: Skarabare in the starting area and Red Stone Town for skilled adventurers.
In these towns you can meet other adventurers, recover from the excitement of the day, sell the spoils of war, learn new skills, and much more. Towns are safe places where you can go about your business in peace. If you're looking for a fight, you'll find a place where you can test your skills and settle disagreements.
Or maybe you're in the mood to go fishing? You might even learn a few tricks with which to best your opponents in fishing. Or head for the dance floor. You might get to know someone by sharing a dance with them. If you've had enough of the grind of everyday life, you can always head for the sanctuary of your own four walls - from a simple log cabin to a sprawling palace, anything's possible!
Regions
There are lots of interesting regions waiting to be explored. You're bound to meet someone who is willing to reward you with a few coins for completing a task or two for them. Be on the lookout, though - many of the areas are full of wild animals and weird characters that may not be friendly to strangers. Some overly brave adventurers have had to pay the price for their curiosity dearly.
In some regions you will find valuable materials, which you can use to craft powerful items with the help of a skilled artisan. Or you can sell them to get a few shiny coins to purchase other items. Maybe you'll pool your coins with friends and use them to build your own buildings? But be on the lookout for enemies looking for pinch your most precious belongings.
Dungeons
Those who are brave enough can explore dark caves inhabited by monsters that have never seen the light of day, bottomless pits full of monsters that come from the depths of the earth, mysterious temples that are home to restless ghosts, and much more.
Grip the hilt of your sword a little tighter, sear the most powerful spells you know into your memory, or send a prayer to your gods - may they help you on your journey! Not everyone will make it back alive...
Dragon world
Legends claim that there are beings in the dragon world that are half human and half dragon. Only the most experienced and bravest warriors found a way to get there, and even fewer lived to tell the tale. There are legends of rivers of fire, islands trapped in mist, and some even claim to have seen angels...